NOT SOLD IN STORES
This LED projection clock displays the current time and temperature and report via voice, with bunch of features that you can easily customize.
Projects Time on your ceiling or wall. You could put it anywhere - study, bedroom, desk. Fully adjust projection angle as per your preference.
Time Projection - The clock can project time onto walls or ceiling for about 10 seconds with adjustable projecting angle. Projection will stay on 5-10s after you press the dome. You could also read time just open your eyes in the morning.
 LCD Display - Time, Temperature, Alarm (if you've set one) shows on the display.
Voice Function - This feature allows you to be told the time while you are getting ready so you don't have to stop and check the time yourself.
Hourly Chime Function - This projection clock can report time every hour when you turn on the CHIME function.
 Details·
LCD time & temperature display with green backlight. 
Alarm with 10 minute snooze function. 
Voice talking function: report the current time in English. 
Two kinds of CHIME report function: CHIME1--every hour; CHIME2--only from 7:00am to 9:00pm. 
Five kinds of alarm sound selectable. 12 hours & 24 hours Mode options.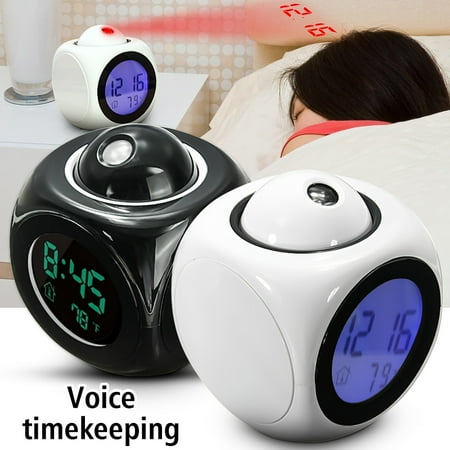 WORLDWIDE SHIPPING

24 x 7 Support

Natty Club Guarantee

100% SECURE CHECKOUT